Monthly Meetings
Monthly meetings are held on the third Tuesday of each month (February-November) at Second Reformed Church, 2323 Stadium Dr. in Kalamazoo. The doors open at 6:15 pm for informal social time, free table, vendors, and demonstrations by our members. The formal program starts at 7:00 pm. The program is an educational/inspirational presentation by our own members, and regional or national speakers. We usually have 2-3 national speakers per year. Guests are always welcome at our meetings and these lectures may be attended by the general public as well as by our members. A nominal fee is assessed to attend as a guest when we have a national speaker. Sometimes workshops are taught during the day by a visiting national speaker. The workshops open first to Kalamazoo Log Cabin Quilt members and then to other quilters who are interested.
---
February 18, 2020
Education Committee presents "Dresden Plate"
---
March 17-18, 2020
Mary Hogan lecture, "String Quilts" and workshop.
Download workshop registration form.
---
April 21, 2020
Lynne Hall presents "Quilting/Technology"
---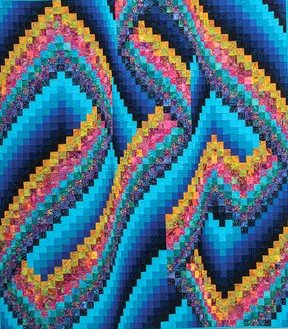 May 19-20, 2020
Ruth Ann Berry, lecture, "Bargello", and workshop

---
June 16, 2020
Service project, "Honor Flights"
---
July 21, 2020
Member demonstrations of holiday gifts/projects
---
August 18, 2020
Dessert buffet and reveal of "Ugly Fabric/Dresden Plate Quilts"
---
September 15, 2020
TBA
---
October 20, 2020
TBA
---
November 10, 2020
Holiday party and presentation of "Lovies"