Monthly Meetings
We meet the third Tuesday of each month at 7pm. Jump to calendar
• Doors open at 6:15pm
• Welcome at 7pm
• Announcements
• Introduction of guest speaker or topic
• Break – Socialize and visit Free Table
• Raffle and Show and Tell
Meeting and Workshop Schedule
May 16, 2023
Chris Hoover of Whirligig Designs will speak and teach a workshop on her Grand Isle pattern the next day.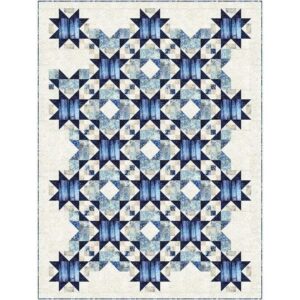 Chris Hoover began quilting in 1989 when she made her first sampler quilt. Sewing a block a week quickly turned into sewing a block a day and sampler quilts and scrappy quilts became her all-consuming passion. "Quilting soothes my soul and has kept me sane many times over the years!" Her eclectic style is inspired by everything from color and texture to architecture and nature and she loves to share her passion speaking and teaching classes for quilt shops and guilds since 1999. Her designs have been seen in Quiltmania, Best Fat Quarter Quilts, Best Weekend Quilts and Quilts from Quiltmaker's 100 Blocks.
"My designs may look complicated but they are easily broken down into simple elements. I encourage quilters to see beyond the color and fabric in a quilt and to imagine the possibilities of the design – how to make it suit their individual style."
June 20, 2023
Charity Spot Light: Two organizations will be served for our June 2023 charitable project this year, the YMCA KORU House and Family Promise of Branch County. Representatives will be at our June 20th Meeting sharing their services and needs. More information about the project is here.
July 18-19, 2023
Dr. Susan Kruszynski will share her beautiful landscape art quilts. She will also teach a workshop entitled Four Seasons – Choose your Season on Wednesday, the day after our guild meeting.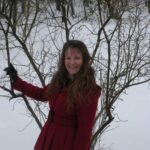 Susan lives in Muskegon, Michigan, and is an award-winning art quilt designer, teacher, author, and gallery artist. Feeding her artistic nature, Susan, at age 8, started experimenting with fabrics to produce colorful creations. She began landscape fiber art design with collage art quilts in 2014. A native of Michigan, her works, that range in sizes from 3"x5" to 40"x60", are often inspired by the trees and woodlands along the Lake Michigan shoreline.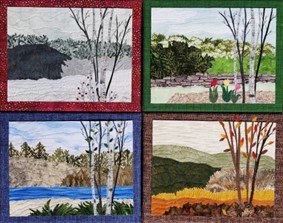 Susan currently divides her time between creating original collaged art quilt designs, teaching art quilting, marketing this fiber art in shows and galleries, running her Quilting Fabrics in Time business, and only just recently retired as a literacy specialist from Muskegon Community College. Susan uses her 40+ years of K-College level teaching experiences and a PhD in Education to teach this art through in-class experiences in and around the state of Michigan, through on-line instruction, and with two art quilt books from Fox-Chapel Publishing. Website: www.quiltingfabricsintime.com
August 15, 2023
Spotlight on Small Groups. We'd like everyone to be part of a small group and this is your opportunity to learn all about them.
September 19, 2023
Susan Frasier will share about her passion of rescuing quilts.

October 17, 2023
Mystery Quilter….more to come.

November 21, 2023
Holiday Party and Lovie Night.