Monthly Meetings
Monthly meetings are held on the third Tuesday of each month (February-November) at Second Reformed Church, 2323 Stadium Dr. in Kalamazoo.  The doors open at 6:15 pm for informal social time, free table, vendors, and demonstrations by our members. The formal program starts at 7:00 pm. The program is an educational/inspirational presentation by our own members, and regional or national speakers.  We usually have 2-3 national speakers per year. Guests are always welcome at our meetings and these lectures may be attended by the general public as well as by our members. A nominal fee is assessed to attend as a guest when we have a national speaker. Sometimes workshops are taught during the day by a visiting national speaker.  The workshops open first to Kalamazoo Log Cabin Quilt members and then to other quilters who are interested.
---
April 21, 2020
Lynne Hall presents "Quilting/Technology"
CANCELLED
---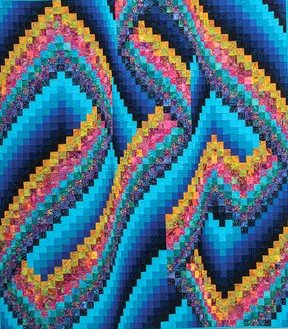 May 19-20, 2020
Ruth Ann Berry, lecture, "Bargello, Simplified 3-D and Stacked Frames Quilts", and bargello workshop
CANCELLED
---
June 16, 2020
Service project, "Honor Flights"
Gather up your red, white and blue fabrics! Our charity quilts for June 2020 are for the Honor Flight veterans out of Kalamazoo. Veterans and companions are flown to Washington DC for a day to be honored for their service. When they return there is a big ceremony and each vet is given a quilt. At least 100 quilts are needed each year. Size is 40 x 45 or larger. Colors are red, white and blue, any design. The guild will provide a unique label.
Help a guild member participate as a Guardian on an Honor Flight
Bring a 12.5″ block (any pattern, using red, white and blue) to the February, March, April or May meeting, along with a $10 donation to the Guardian Fund. Winners will be drawn randomly to receive 16 blocks each to incorporate into an Honor Flight quilt.
---
July 21, 2020
Member demonstrations of Fall and Winter holiday gifts/projects
---
August 18, 2020
Dessert buffet and reveal of "Ugly Fabric/Dresden Plate Quilts"
---
September 15, 2020
Diane Oakes, trunk show
---
October 20-21, 2020
Aileen Fitzpatrick: lecture and workshop

---
November 10, 2020
Holiday party and presentation of "Lovies"